A while ago I posted My Best Homemade Pizza Dough Recipe, and it turns out it has been my most popular article so far. I have decided to add a few more recipe's to create a collection of the, in my opinion, best pizza dough recipes.
I have searched the internet, and I am astonished at how many different pizza dough recipes are out there. From no-yeast, no-knead, gluten free, paleo, a recipe for the bread maker up to the classic Neapolitan and Sicilian pizza dough.
I hope you will enjoy these recipes and will find the one you would like to try. You might be in for a few surprises.
A Selection Of The Best Homemade Pizza Recipes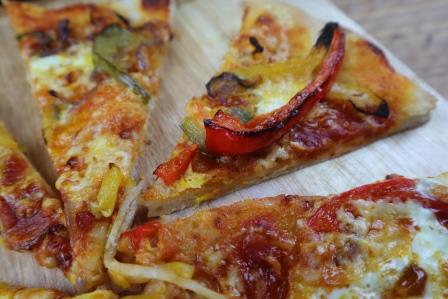 Recently, I have become more interested in baking with sourdough. And this recipe by Jane from this website here, has quickly become my favorite pizza recipe. I have found that it is so much easier to work with a sourdough than a yeast based dough and it tastes so delicious
You will need a sourdough starter to begin with. There are starter kits available or maybe you got a friend who already has a sourdough starter.
The big difference between sourdough and yeast dough is, that it takes much longer for the sourdough to rise. You need to account for around 6 hours. But, the wait is well worth it.
Jane recommends putting on the dough in the morning, so it is ready to be baked at dinner time.
Watch the full video on YouTube.

---
2. How To Make Neapolitan-Style Pizza
The classic Neapolitan-Style Pizza dough needs only four ingredients: flour, yeast, salt, and water. I would like to add another element, and that is patience. With this recipe, you will have to let the dough to rest overnight. So a little bit of planning is needed. Say, you want to make your pizza on Friday night. Therefore, you have to make the dough the day before on Thursday.
Chef Thomas McNaughton uses a stand mixer to knead the dough to get the right consistency.
[Read my review for my recommended stand mixer here]
Read on for another great recipe featuring the Sicilian Pizza.
---
This recipe is an original recipe by Tony Gemignani who is a 12 time World Pizza Champignon and has written The Pizza Bible. A book, I highly recommend for every Pizza maker (and Pizza Lover).
He explains step by step how to make the dough but also shows the stretch-and-fold method.
This is not a quick recipe. It takes some time to let the dough prove but also to knead it as described in the stretch-and-fold-method. As a reward, you will get a yummy thick crust delicious tasting Sicilian -style pizza.
[Want to know more about the Sicilian Pizza? Read more here]
If you are a busy family or you just got some visitors and would like to whip up a quick and easy meal, read on for my next pizza dough recipe.
---
For this fast and easy recipe, you will need six ingredients: flour, honey, salt, oil, yeast, and water. Holly is using a stand mixer to bring the dough together, or you can also use your hands.
The rising time is only around 15 minutes because she is using quick rise yeast. This recipe is perfect for the busy family or if you have visitors calling in and you want to whip up a quick meal.
Be careful not to use too much flour otherwise the dough might get too tough. In general, the dough will be a bit sticky. Put some vegetable oil in your hands. That prevents the dough from sticking, and it is easier to handle.
Add your favorite sauce and toppings, and you are good to go!
---
This easy and quick pizza dough is using a bread maker to make our busy life's easier. I have used my bread maker so many times to make pizza dough.  My bread machine has been such a  useful and practical appliance and never let me down
Besides a slow cooker, a bread machine is a useful tool to have especially when you are a busy mom or dad and have to run a household with a few kids. Just put all the ingredients into the machine (as recommended by the manufacturer) turn the bread maker on to dough cycle and make yourself a coffee.
All you need to do now is waiting for the machine to finish. With my bread maker, it takes roughly 90 minutes. Enough time to get the sauce and toppings ready.
---
This recipe has to be the easiest and simplest pizza dough recipe ever. You don't need water, yeast or oil! That is not possible; I can hear you saying.
Yes, it is. You only need a tub of Greek yogurt and self-raising flour. You can also substitute the self-raising flour with a mixture of all-purpose flour and baking powder.
I believe, this recipe is one of the most shared recipes on the internet. The dough is also ideal for making bread sticks or cinnamon rolls.
Have fun experimenting!
---
More and more people are becoming intolerant to gluten and therefore are missing out on a delicious pizza. Not anymore. Many of you might have heard of using cauliflower as a rice substitute or in our pizza dough case as a replacement for flour. Add an egg, spices,  and cheese to the processed cauliflower and 'e voila' you have got a gluten free pizza base.
According to Michelle from The Lucky Penny Blog, even her picky husband likes it.
I must admit that I haven't tried this recipe yet, but will post an update once I give it a go. It sounds delicious and easy to make, and it is always good to try new things. Asan additional plus, this recipe is also fantastic to get more vegetables on my children's plate.
---
The Paleo diet has become more and more popular over the past few years and just to top off this collection of homemade pizza dough recipes; I would like to share this simple and straightforward best Paleo pizza crust recipe.
I have found it on the blog Paleo Spirit by Leah and her readers raving about how tasty and easy to make this crust is. No dairy, no grain, no yeast! It contains one egg, salt, olive oil, water and a mix of Tapioca and Coconut flour.
This is a great recipe for everyone who is gluten intolerant or can't eat dairy products. Why not give it a try and see for yourself!
---
Summary
Have you found your favorite recipe? I do like the sound of the cauliflower crust pizza. I reckon it is a fantastic idea to serve up more vegetables and to bring some life into the usual bland tasting cauliflower.
For the more ambitious pizza cook, the Neapolitan-style and Sicilian-style pizza doughs seem a bit more challenging. But the results are so rewarding.
Most recipes are mentioning the use of a Pizza Stone. If you want to know more about using a pizza stone, please read my post here.
I also recommend using a mixer to knead the dough (especially large amounts). My favorite ones are the  Bosch Universal Mixer as well as the Ankarsrum Stand Mixer.
I can't wait to hear which of the recipes is your favorite. If you have your very own special homemade pizza dough recipe, please feel free to share it in the comments below.
Happy Cooking and Creating!
Anke
Note: This post contains affiliate links. If you decide to purchase one of these products I will earn a small commission fee. I always recommend products I have used or would recommend to friends and family.