What Is An Authentic Neapolitan Pizza?
As a pizza lover,many times I have come across  different terms like Neapolitan-style, Chicago-style, NY-style pizza and so on. I have never really thought about these names because to me a pizza is a pizza is a pizza, right? It all changed when I decided to read and research about the various pizza styles. Wow, what a fascinating world of pizza and it's rich history opened up to me.
The most famous and well-known pizza is probably the Neapolitan Pizza or Pizza Napoletana. Let's join me in my journey about the history and origins of an authentic Neapolitan pizza and find the answers to what you need to make a real Pizza Napoletana.
History
Naples in Italy is the proud birthplace of the modern pizza. It all started back in ancient times with a flatbread that was baked in wood-fired ovens and was part of a staple diet for most people back then.
No one knows exactly when the flatbread was topped with tomato and later on with cheese and olive oil. The tomato plant was introduced in the 16th century, but at first, people believed it was a poisonous fruit. It was not until the late 18th century that the poor people of Naples added tomato to their yeast-based flat bread.
We do know, that the first pizzeria 'Antica Pizzeria Port'Alba' opened its door in 1830 in Naples.
In 1889, the famous Pizza Margherita was created by Rafaelle Esposito. Legend says that he invented this pizza in honor of Italy's Queen Margherita, who was visiting Naples and was very interested in the flatbreads which Naples peasants were eating. The Pizza Margherita represents the Italian flag with its red (tomato), white (mozzarella cheese) and green (basil leaves) colors.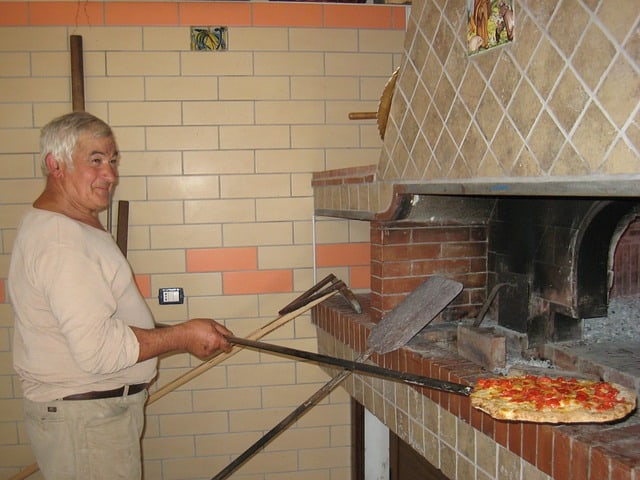 Ingredients For An Authentic Pizza Napoletana
In 1984, the Associazione Verace Pizza Napoletana (VPN) was founded to keep the traditions of making a true pizza Napoletana alive. Throughout Naples, you will find pizzerias that have received a certificate by VPN for using traditional methods of making an authentic Neapolitan pizza. The guidelines are quite strict.
First and most important, the pizza dough: you will need wheat flour 00, sea salt, water and natural Neapolitan yeast or brewer's yeast. Note: there is no olive oil in the dough!
The dough is kneaded by hand and shaped into a round form by hand as well (no rolling pin!) The dough has to be no thicker than 0.12″. The pizza has to be cooked in a wood-fired dome-shaped oven at around 905 F (485 Celcius) in 60 – 90 seconds, preferably with oak wood. So you can see, the rules are pretty precise.
A True Pizza Margherita
Some strict guidelines also apply to making a traditional Pizza Margherita. As you can see, I have listed the ingredients above, and they are available on Amazon.
For the toppings you need:
San Marzano tomatoes; these are Plum tomatoes which are growing in the volcanic soil of San Marzano/Italy. The flesh is juicy, and they are low in sugar, perfect for pizza sauce
Extra virgin olive oil from Italy
Buffalo mozzarella from Campania
Fresh basil leaves
There you have it, just a few, but only the best quality ingredients make an authentic Pizza Margherita.
Watch this video of Tony Gemignani, 12-time World Pizza Champigon, how he makes an auhentic Neapolitan pizza in 90 seconds.

Another Variant Of A Neapolitan Pizza
Purists consider only two variants as authentic Pizza Napoletana: of course, the well-known Pizza Margherita and the second one is Pizza Marinara, which is even older than her famous counterpart.
Pizza Marinara is topped with tomato, oregano, garlic and extra virgin olive oil. Legends hold that 'la Marinara' the seaman's wife prepared this dish while she was waiting for her husband's return. What a lovely little story.
Summing It All Up
Well,  the rest is history. It all started in Naples/ Italy and from there Pizza has become one of the most popular, much-loved dishes in Europe and North America.  People are passionate about making the best possible pizza, searching for new and inventive toppings or pizza dough recipes. There is also a big trend in baking and cooking with a traditional wood-fired oven.
The Italians have shown us that you only need a few simple but quality ingredients to produce the most delicious pizza. I think I have to travel to Naples soon and discover the authentic Pizza Napoletana at its birthplace. How about you?
Anke
Founder of woodfiredpizzaoven.org
 Note: This post contains affiliate links. If you decide to purchase one of these products I will earn a small commission fee. I always recommend products I have used or would recommend to friends and family.