Are you looking for a lightweight, portable, and easy to use wood-fired oven? Then look no further. I might have found something that will tick all the boxes.
After doing my thorough research on different forums and reading customer reviews on Amazon, I have come across this little beauty.
The customer reviews are great, so I had to check what the fuss is all about.
* Please note: all product links in this product review are affiliate links. That means, as an Amazon Associate I earn from qualifying purchases.
---
The Wood Fired Oven Pizza Party 70×70 Review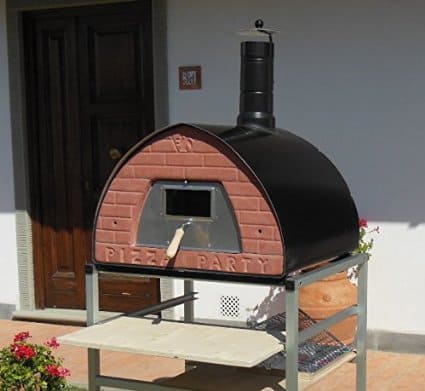 Let's Get Started With Some Important Details
This beautiful wood-fired oven is handmade in Firenze Italy and gets delivered right to your doorstep by FedEx.
The oven comes fully assembled. All you need to do is install the thick fire bricks and attach the chimney. Done!
You are ready to go to light the fire and in roughly twenty to thirty minutes the oven is hot enough to bake your first pizza.
It only takes 60 to 90 seconds to serve a delicious Neapolitan style pizza. 
The party pizza oven is lightweight with only 110lbs (50 Kg) and can easily be carried by two people. The weight without the bricks is 77lbs (35 kg) That is vital if you want to be flexible and like to move the oven around.
Related post: The Best Outdoor Wood Fired Pizza Ovens
You could even take this oven with you when you go camping or visiting friends and family.
---
What Material Is The Oven Made Of?
The Pizza Party 70×70 is made with high-quality stainless steel; the outer material is Aluminium.
The oven is fully insulated with ecological ceramic fiber. The oven floor consists of thick fire bricks.
The door is stainless steel as well. I like the little glass window in there. That way you can peek through and check on your pizza or other dishes you might be cooking.
By the way, please look at my post about tools you will need when you use a wood-fired oven.
Related post: Best Pizza Cookbooks For The Wood-Fired Oven
Another great feature is the innovative rear flue. That means you can even put the oven indoors and connect it easily with an existing stove or chimney pipes. I think that is fantastic, use it outdoors in Summer and indoors in Wintertime
---
Summary

Wood Fired Oven Pizza Party 70×70

Review
Let's put everything together.
Size: 27″1/2 x 27″ 1/2; 70cm x70cm
Max. Temperature: 1022F, 550C
Weight: without bricks 77lbs, 35 kg; with bricks 110lbs, 50 kg
100% made in Italy
bake two pizzas  at the same time in 60 to 90 seconds
suitable for indoor and outdoor use
different colors: red, green, bronze, stone and gunmetal
Material: Aluminium skin and stainless steel
heats up in less than 30 minutes
fully insulated
Customers also mentioned the great online customer support. I think that is another big plus when you make such a big purchase.
The Wood Fired Oven Pizza Party 70×70 is, in my opinion, a great choice due to the lightweight, ease of use, high-quality material, short heating time, indoor and outdoor use, and the rustic Italian look.
Please Check The Price On Amazon
---
Please let me know what you think and leave a comment below.
Anke
---
WoodFiredPizzaOven.org is a participant in the Amazon Services LLC Associates Program, an affiliate advertising program designed to provide a means for us to earn fees by linking to Amazon.com and affiliated sites.
If WoodFiredPizzaOven.org links to an Amazon product (with a special code for affiliates embedded in the link) and you buy this item or any other product, WoodFiredPizzaOven.org will get a small percentage of the sale.