When it comes to making pizza, one of the most important tools you will need is a pizza peel. It will help you to transport the pizza to the oven, gently slide it onto the hot cooking surface, and helps you to rotate the pizza while it is cooking.
Last but not least, it is a necessity to get the baked pie out of the oven without getting burned.
(What other tools do you need? Find out more in my post about wood-fired pizza oven tools)
As so often, the choices can be quite overwhelming. Is a wooden peel or a stainless/aluminum steel better?
How long should the handle be?
What is the best tip to get the pizza off the paddle?
Well, in my review I am looking at four different pizza peels of various sizes and materials.
I will also provide you with some handy tips on how to use them and other things you should take into consideration.
Overall, all four of them are reasonably priced between $15 up to $25 the most. So actually, one can't go wrong with investing in a pizza peel.
* Please note: all product links in this product review are affiliate links. That means, as an Amazon Associate I earn from qualifying purchases.
---
The Best Pizza Peels For A Wood-Fired Oven
Pizza Royale Natural Bamboo Pizza Peel
size: 19.6″x 12."
This beautiful pizza peel is made from non-toxic, antimicrobial bamboo. It has a smooth finish that will prevent the wood from
splitting like other wooden handles.
The Pizza Royale is robust but easy to hold and to maneuver. The paddle is of medium thickness with both sides of the edges tapered.
That makes it easy to get the pizza on and slide off.
The hole at the end is ideal for storage purposes, just hang it up, and it is out of the way.
The cool feature is though that you can use it also as a chopping board, serving board, cheese board, etc. Don't you love items you can use multiple ways?
With the Pizza Royale pizza peel, you will receive a free recipe ebook and a 180-day money-back guarantee.
Related post: Best Pizza Cookbooks For The Wood-Fired Oven
Pros: It's a strong, lightweight Pizza peel with a smooth finish and easy to hold handle. The tapered edges allow you to pick up the uncooked pizza quickly. Alternatively, prepare the pizza on the paddle. 🙂
I also like the 180-day money-back guarantee and the fact that the peel can also be used as a chopping or serving board.
Cons: The handle might be too short when you use it for the wood-fired pizza oven because of the high heat. I would recommend wearing heat-resistant gloves just to be on the safe side.
Overall, the Pizza Royal Pizza Peel is a great reliable product that will do the job for a long time.
Please Check The Price On Amazon
---
Stainless Steel Pizza Peel With Folding Handle
paddle size: 9.5″ x 13″
length: 22″
weight: 1.9lbs
This pizza peel features a thin stainless steel paddle that easily slips under pizzas and pies; probably better than thicker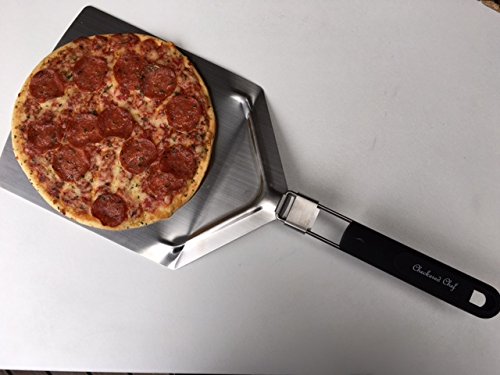 wooden peels.
It also has an easy-grip rubber handle, so no more scratches or splinters you might get from wooden handles.
The handle has a hole for easy storage.
Storage is a breeze since the handle is foldable which is a great plus. It has a clip that slides onto the handle to lock it into place. Another plus is that the pizza peel is dishwasher safe.
Pros: The Stainless Steel pizza peel is stylish looking, durable, and sturdy. The thin stainless steel paddle makes it easy to pick up the pizza. I like the foldable handle for easy storage. Use the peel for your pizza oven or the bbq.
Cons: The handle might be a bit short to use for a wood-fired oven. Again, I would recommend wearing heat-resistant gloves.
Overall, this pizza peel is a great product and has received brilliant reviews on Amazon.
Please Check The Price On Amazon
---
Pizzacraft Pizza Peel With Folding Handle
paddle size: 9.8″ x 11.7″
length with extended handle: 27″
weight: 1.8lbs
This pizza peel has a stainless steel paddle and a hardwood handle which is foldable. The handle has a small hole so you can
put a string through to hang it up.
The paddle slides easily under the pizza for safe transfer into the oven or onto a pizza stone.
The handle is secured by bolts and nuts so you need to make sure that you tighten the knob before using the peel.
Related post: The Best Wood Fired Pizza Oven Tools
Pros: This is another great solid product. The customer service is fantastic. If you are not 1oo% satisfied, pizza craft will give you a replacement or refund. So if you have any concerns don't hesitate to get in touch with the company.
Cons: Please note that the paddle might be a bit on the smaller side.  Keep it in mind when you are preparing your pizza.
Overall, you can't go wrong with the Pizzacraft pizza peel. I like their 100% satisfaction guaranteed promise and the folding handle.
Please Check The Price On Amazon
---
Kitchen Supply Aluminum Pizza Peel
paddle size: 14″ x 16″
length: 27″
weight: 1.6lbs
The Kitchen Supply Aluminum Pizza Peel is a bestseller on Amazon. The paddle is aluminum and has nice round edges.
It also features a wooden handle.
It is a well-made product and is being produced in America.
The paddle is large enough to cater for a full-sized pizza.
This is a strong and robust pizza peel. As with every aluminum/steel made paddle, it is easy to glide underneath the pizza and lift it up to transfer into the oven.
Related post: The Best American Made Charcoal Grills For An Unforgettable Summer
Pros: This pizza peel is made in America; it is robust and sturdy. The handle is long enough to prevent your hands from burning. You can also get this peel with a longer handle.
Cons: The handle might be a bit long to store in your kitchen cupboards.
Overall, this is a great pizza peel for a good price.
Please Check The Price On Amazon
---
Some Handy Tips For Using The Best Pizza Peel For A Wood-Fired Oven
Here are my handy dandy tips on how to use your new pizza peel.
Dust the peel with some cornmeal before placing the pizza on it.
Avoid leaving the uncooked pizza on the peel for more than five minutes. Otherwise, it might stick to the paddle.
If the pizza sticks to the peel and won't slide off, leave the peel with the pizza on it for a minute in the oven. It should come off easily.
Use the peel to check the underside of the pizza and also to rotate in the oven.
You could also use parchment paper to prevent sticking. It also keeps the paddle clean.
Most of the handles might be a bit short to use for a wood fired pizza oven. For safety reasons, I always recommend wearing heat-resistant gloves.
---
Some Other Things To Consider
Some pizza makers recommend having two pizza peels, a wooden and a steel one. They use the wooden pizza peel to transfer the uncooked pie into the oven.
The wooden surface seems more nonstick than the steel one. But to rotate and taking out the pizza, they find the steel/aluminum paddle with the thin material better to use.
Please let me know, what you have experienced and which of the pizza peels would be your choice.
As always, I would love to read your comments below.
Happy cooking!
Anke
---
WoodFiredPizzaOven.org is a participant in the Amazon Services LLC Associates Program, an affiliate advertising program designed to provide a means for us to earn fees by linking to Amazon.com and affiliated sites.
If WoodFiredPizzaOven.org links to an Amazon product (with a special code for affiliates embedded in the link) and you buy this item or any other product, WoodFiredPizzaOven.org will get a small percentage of the sale.
Prices are exactly the same for you if your purchase is through an affiliate link or a non-affiliate link.
You will not pay more by clicking through to the link.