Do you need a new barbecue?  My definitive list of the five best Kamado grills has you covered.
Get ready for grilling, smoking, slow cooking and making delicious pies with one of these most versatile charcoal-fueled grills.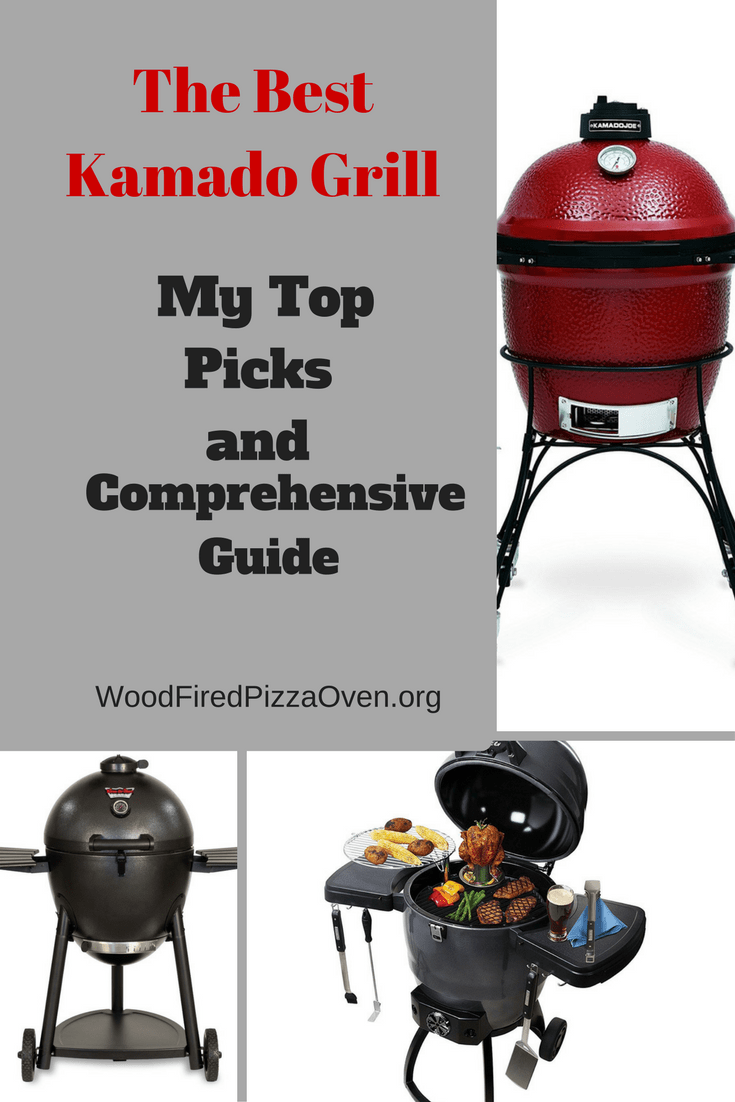 Grilling and cooking in a Kamado grill are becoming increasingly popular. Any bbq enthusiast will love the versatility of these high-quality grills. Smoking, grilling, slow-cooking, making pizza – all this is possible with a Kamado grill.
In this post, I am not only discussing the best Kamado grills and my top choices but also must-have features of a great Kamado grill.
Related post: What Is A Kamado Grill
You will notice that my choices are representing a medium price range (around $1000) because I firmly believe that you don't have to spend a fortune in order to get a high-quality Kamado style grill.
In saying that, the average price for a Kamado grill is still reasonable higher than your average Charcoal grill.
Comparison Chart For The Best Kamado Grills
| My Top Picks | Brand | Material | Weight | Price | Description |
| --- | --- | --- | --- | --- | --- |
| KamadoJoe | Kamado Joe | Ceramic Body | 188lbs | $$$ | Kamado Joe is one of the most popular and well-established brands. My Top Pick and Highly recommended because of the quality, extras and life time warranty on the ceramic parts. |
| Akorn Kamado Kooker | Char-Griller | 22 inch Gauge Steel | 90lbs | $$ | The Akorn Kamado Kooker is a well-constructed and lightweight Kamado style grill. Great value for your money. |
| Vision Grills Kamado | Vision Grills | Ceramic Body | 252lbs | $$$ | The Vision Grills Kamado is a solidly build grill that offers a lifetime warranty for the ceramic parts |
| Broil King Keg | Broil King | Double- steel wall design | 128lbs | $$$ | The Broil King Keg is a solid and sturdy but lightweight Kamado grill. Get the trailer hitch adapter and take it anywhere you go. |
| Pit Boss Kamado Grill | Pit Boss | Ceramic Body | 1778lbs | $$$ | The Pit Boss is another example for a great Kamado style grill. The warranty is somewhat limited. |
---
What My Favorite Kamado Grills Have In Common
These most versatile and sturdy grills for the passionate home cook and BBQ fan have a few things in common.
The Material
You can grill, slow cook, bake, and smoke with these versatile charcoal-fueled cookers. This is possible because of the high-quality materials used to build the Kamado. The most common material is ceramic because it retains the heat for a very long time.
The Akorn and Broiler Keg feature a body constructed of double-walled gauge steel whereas the Kamado Joe, Pit Boss, and Vision Grills are made of heavy ceramic. Therefore the latter is much heavier.
Both materials have great insulation qualities that allow the user to slow cook their favorite cut of meat, grill a juicy T-bone steak or bake a pizza at 700ºF.
Fuel
It is recommended to use lump charcoal to heat up the Kamado as opposed to briquettes. Lump charcoal is more expensive than briquettes, but with a Kamado a little amount of coal will go a long way.
Lump charcoal is the product of wood that gets burned in the absence of oxygen. It lights faster, produces a higher temperature and leaves an only small amount of ashes. It is also easier to control the temperature by using the air vents on a Kamado.
A very common question is how to light lump coal, and I have described a method in my post What is a Kamado grill. Another efficient way to light the fire by using an electric fire starter or gas torch.
One important tip is: never use lighter fluid in a ceramic cooker. Why? Because the ceramic will absorb the strong smell and it is tough to get rid of it. 
A Stand Or A Cart
As you can see in the comparison chart, all five Kamado grills are quite heavy especially the once with a ceramic body. A movable stand or cart is a must to move these heavy grills wherever you want them to be without breaking your back.
You will find other popular Kamado grills without a stand, but I believe that for the amount of money one is investing in their new 'toy,' a stand or a cart should be included in the package.
* Please note: all product links in this product review are affiliate links. That means, as an Amazon Associate I earn from qualifying purchases.
---
The Best Kamado Grills – Our Top Five Picks
Kamado Joe Classic 18″ Review – Best Value For Money
 The Kamado Joe is more and more becoming a favorite with Kamado grill enthusiasts for excellent reasons. Hands down, it is my #1 recommended Kamado grill.
The company claims that the Kamado Joe is the "BEST BUILT, Flat out the best ceramic grill on the planet!" They back up this bold statement with a lifetime warranty on the ceramic parts and free shipping on all warranty parts.
That is fantastic and will give you peace of mind. It also speaks for the great customer service of the company.
The Kamado Joe features a generous cooking surface of 254sq inches which can be expanded up to 660sq inches by using two grates and an expander. Talk about feeding the crowd!
The grill is easy to assemble, has an accurate temperature gauge in the lid, and a slid out drawer for cleaning out the ashes.
The Kamado grill sits comfortably on a cast iron cart with locking wheels and makes it a breeze to move it around.
The Kamado Joe features its unique 'divide and conquer' system: You can cook on one level, or, one-half of the cooking grate sits on the upper and the other half on the lower level, closer to the coals.
With your purchase, you will get a good selection of accessories: a well-written instruction booklet, an ash tool, a grate gripper, and the Divide and Conquer Flexible Cooking System.
The Pros And Cons Of The Kamado Joe Grill At A Glance
Pros
well-constructed
incredible heat retention due to the ceramic body
most versatile, suitable for smoking, grilling, searing and baking
foldable side shelves (enough space to hold essentials like rubs and spices, utensils, and of course some beer:-))
a generous cooking surface
the divide and conquer system
patented slide-out ash drawer
the airlift hinge is great for easy lifting of the dome
multiple accessories included
a lifetime warranty on the ceramic parts
Cons
heavy but that is normal for a Kamado Grill
ceramic is fragile so requires careful handling; that's why the lifetime warranty is important
Overall, the Kamado Joe is my favorite recommended grill due to the high quality, fantastic warranty, and versatility. Considering the additional extras, it is great value for money.
---
Char-Griller Akorn Kamado Kooker Review – Great For Newbies
 The Akorn Kamado Kooker is an excellent choice for someone on a tight budget but also a perfect option for people new to Kamado cooking who are not too sure yet if they like it.
The Akorn is lightweight with only 90lbs because the body is constructed with 22-inch heavy duty steel. The cart is constructed from tubular steel with locking wheels (8″) in the front.
The cast iron cooking surface with 314sq inches is big enough to hold a large roast, and the cast iron grate will give the meat the nice charred marks everyone loves on their steaks or burgers.
My tip: season the cast iron grate; rub it with a thick slice of onion or potato before each use.
The removable ash pan is a must-have to make cleaning out the ashes a breeze. Well done, Char-Griller!
The Pros And The Cons Of The Akorn Kamado Kooker At A Glance
Pros
Foldable metal shelves
Available in three colors; Black, Brown, and Red
In-built temperature gauge
Easy-dump ash pan
Triple walled insulation for heat retention
A 5-year warranty for rust-through and burn-through; 1-year warranty for defective parts
Easy to assemble
Cons
Heat retention not as long as a Kamado with a ceramic body.
Overall, The Akorn Kamado Kooker is great value for money who want to get started with Kamado style grills and don't want to spend too much money.
---
Vision Grills Kamado Review
 Here is another excellent example of a kamado style grill. The Vision Grills Kamado features a ceramic body and a 2 tier stainless steel cooking grate which adds up to a massive 596sq inch cooking surface.
On the bottom of the grill, you will find a side drawer to remove the ashes. This solid grill sits on a stainless steel cart with two locking casters. The grill is even heavier than the Kamado Joe grill with 252lbs! So the cart will help you to move the Vision Grill around with ease.
Related post: The Best Recipes For A Kamado Grill
Enjoy versatile cooking with this solidly built Kamado style grill. It comes with a lifetime warranty for the ceramic parts.
Pros And Cons Of The Vision Grills Kamado At A Glance
Pros
robust and high-quality
cast iron top damper
excellent heat retention due to the ceramic body
package includes an electric fire starter
two solid foldable side shelves
extensive cooking surface
a lifetime warranty for ceramic parts
Cons
Very heavy with 252lbs!
Some users found the gasket to be leaking and reported smoke was coming out of the openings which lead to inconsistent temperature.
Overall, the Vision Grills Kamado is a sturdy and good quality Kamado grill with an impressive lifetime warranty for the ceramic parts!
---
Broil King Keg Kamado Grill Review
 Here is another prime example of a Kamado grill featuring a double-steel wall design instead of a ceramic body. The keg offers 280sq inches cast iron cooking grate plus an additional 200sq inches chromed cooking surface.
The included multi-tool is fantastic for lifting out the cooking grate or positioning the bottom and top damper to adjust the airflow.
Related post: The Most Useful Accessories For Kamado Grills
The removable ash pan is perfect for cleaning the Keg for the next round of BBQ.
The stand is made from an ultra sturdy steel frame with heavy-duty wheels that make it easy to move the Keg anywhere you want. A unique feature is the hitch adapter kit that allows you to take your Keg camping, to a picnic or tailgating. Pretty smart idea!
The Pros And Cons Of The Broil King Keg Charcoal Barbeque Grill At A Glance
Pros
durable and lightweight with 126lbs
removable side shelves for extra storage space
heavy-duty cast iron top damper
removable ash pan
the multi-tool is ideal for various tasks
accurate built-in thermometer
handles are cool to the touch
a limited 2-year warranty
Cons
no ceramic body (but still high heat retention)
limited warranty
Overall, you can't go wrong with a Broil King Keg. I do love the hitch adapter kit.
---
Pit Boss Kamado 22″ Grill Review
 The Pit Boss Kamado features a heavy ceramic body which is great to keep the heat in and for controlling the temperature.
The dual-tiered stainless steel cooking grates provide impressive space for grilling your burgers, mouthwatering ribs and steaks (all up 567sq inches cooking surface).
The fireproof felt edge and shock absorber are great to guide and protect the lid.
The Pit Boss doesn't have a removable ash pan but comes with an ash removal tool. The included stand is a heavy-duty powder coated steel frame with locking casters.
The dome thermometer is easy to read, and the top vent is made of heavy-duty cast iron.
The Pros And Cons Of The Pit Boss Kamado Grill At A Glance
Pros
two-tiered cooking surface
cast iron top damper
foldable bamboo shelves
includes an ash removal tool
Cons
Overall, the Pit Boss Kamado Grill is a solid Kamado style grill with a heavy ceramic body.
For our detailed review of the Pit Boss ceramic cooker, please click here.
---
A List Of Useful Accessories For A Kamado Grill
A Cover
It is a great idea to invest in a cover to protect your best Kamado grill from various weather conditions. It will increase the longevity and durability of your grill.
A Pizza Stone And Heat Deflector
I have mentioned several times that a Kamado is fantastic to bake pizza since you can heat it up to 700ºF and even more. To bake a pizza you will need to get a heat deflector and a  thick grill-safe pizza stone.
The heat deflector prevents the pizza from burning and creates indirect heat. Make sure to get a pizza stone that fits the size of your Kamado grill. Heat up the pizza stone together with your grill; that will prevent the stone from cracking.
[For more information read my guide How To Use A Pizza Stone.]
You also might like to consider getting a pizza peel.
Bits And Pieces
For easy lighting the fire, I'd recommend a gas torch or electric fire starter.
A drip pan to prevent grease from spilling into the fire. A foil-covered deep dish cast iron pizza pan will do the trick.
A quality wire brush for cleaning the cooking grate.
A remote probe thermometer to monitor the internal temperature while the food is cooking.
Heavy-duty welding gloves or other heat resistant gloves.
Long-handled tongs
---
Safety Precautions
As with any outdoor barbecue grill, it's good to stick some safety precautions. As mentioned before, heat-resistant gloves are essential since the Kamado grill can heat up to high temperatures.
The body itself will feel warm to the touch, but other parts will get hot so be careful.
If you operate your grill on a wooden deck, it's an excellent idea to place a grill mat underneath for more safety.
Flashback
Be careful when you open the lid, especially when the vents have been closed, and the fire had no exposure to oxygen.
If you open the lid suddenly then the rush of oxygen can cause a huge flame. This is called a flashback and can cause severe burns.
Better be safe than sorry and always approach opening the lid with caution. The best method is to open the lid slightly and hold it open for a few seconds. Now it is safe to open the lid fully.
---
Let's Recap The Pros And Cons Of A Kamado Grill
I think that a Kamado grill is a must-have for any barbecue and charcoal grill enthusiast. It is such a versatile grill and can do so much more than your average BBQ.
From grilling, smoking, baking, slow cooking your favorite cuts of meat – the Kamado grill can do it all. But, this type of grilling might not be suitable for everyone. There is a learning curve involved. But do not fear, every Kamado grill comes with clear instructions, and there are several active forums and FB groups around.
One helpful forum is KamadoGuru.com where you'll find a wealth of knowledge posted by other Kamado users.
Here Are The Benefits Of Owning A Kamado Grill
Due to the compact size, they fit even in small outdoor places or backyards.
They are ready to cook in 15 minutes.
Easy to use and to assemble.
Needs less fuel than a regular BBQ
VERSATILITY!
Long lasting, durable, and most Kamado's offer an incredible warranty.
Heat Retention!
Low maintenance.
What Are The Cons
Quite heavy but the movable stand is helpful to keep the Kamado grill portable.
A slight learning curve is involved.
Ceramic can crack but thanks to a lifetime warranty with the Kamado Joe and Vision Grills no worries there.
The average price is higher than for a traditional charcoal grill.
---
Frequently Asked Questions
Why Does A Kamado Style Grill Cost More Than A BBQ Grill?
A Kamado Style Grill costs on average between $800 to $2000. The more expensive Kamado grills use heavy ceramic and stainless steel or cast iron grates. The quality of the material is of very high standard and requires excellent craftsmanship.
Kamado grills are built to last. So in the long-term investing in a Kamado style grill is more cost effective than buying a BBQ grill every few years.
What Is The Best Pizza Stone For A Kamado Grill
A suitable pizza stone for a Kamado grill is usually a bit thicker than a 'normal' pizza stone. There is a huge selection on Amazon available for each of the discussed grillers.
Choose one that fits the size of your Kamado, and you should be fine. Most manufacturers recommended the best suitable grill. Here is a great example of a pizza stone.
What Fuel Should I Use?
As mentioned before, most manufacturers recommend using lump charcoal because it heats up quickly and produces only a small amount of ashes. It costs more than the usual charcoal, but you'll need only a little bit.
Why Have Kamado Grills Become So Popular?
More and more people appreciate the durability and longevity of a Kamado style grill. Not only are they suitable for smaller spaces but are hugely versatile.
You can grill, smoke, slow cook, bake and use it as a wood-fired pizza oven. They heat up in under 15 minutes due to the use of the top and bottom vents.
---
Wrapping It Up
I do hope my guide has helped you to decide on which Kamado grill might be the best choice for you.
Enjoy your new grill and have fun with your family and friends at your next BBQ. Enjoy juicy steaks, slow-cooked brisket or tasty burgers with a nice chargrilled flavor.
If you have found this post helpful, please share it on your favorite social media platform.
I do love to hear from you! What is your top choice and why? Please leave a comment below.
---
WoodFiredPizzaOven.org is a participant in the Amazon Services LLC Associates Program, an affiliate advertising program designed to provide a means for us to earn fees by linking to Amazon.com and affiliated sites.
If WoodFiredPizzaOven.org links to an Amazon product (with a special code for affiliates embedded in the link) and you buy this item or any other product, WoodFiredPizzaOven.org will get a small percentage of the sale.