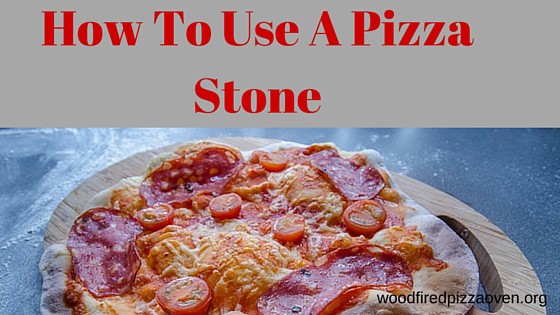 How To Use A Pizza Stone
First up, a pizza stone is an awesome tool to have when you either don't have the money, time or space to invest in a wood fired pizza oven.
Baking your pizza on a pizza stone will help you to achieve similar results you would get in a pizza oven (without the amazing mouthwatering smoky flavor though).
But hey, it is a good alternative and less expensive too. And you have to start somewhere. 🙂
In my opinion, using a pizza stone is pretty straight forward. You can use the pizza stone in the oven, on the grill or the bbq. Most of them are not suitable for putting them on a stove except if you use a cast iron pan.
There is a variety of pizza stones on the market. They differ mainly regarding the material they are made of and the thickness of the material.
---
Different Types Of Pizza Stones
There are four different types available.
ceramic
cast iron
stainless steel
cordierite stone
Please read my review on The Best Pizza Stones for more details and my top picks.
I use a cast iron pan because I like the versatility of use. The cast iron pan is the only one you can use on top of the stove as well.
But at the end of the day, it comes down to each and everyone's personal preference.
One thing these four pizza stones have in common: They will help you cooking your pizza close to perfection. The crust will be cooked nice and crisp, the bottom crust browns and you will get a perfect puff in the crust. The toppings are also cooking evenly and crisp. Yummy!
---
How Do I Use A Pizza Stone?
As mentioned before it's a very straightforward process to use a pizza stone. First of all, It is crucial to put the stone in the cold oven, so it preheats together with the oven. The stone needs to be scorching to cook the pizza evenly and to get the beautiful crispy crust.
Preheat the oven to the highest possible setting before you bake your pizza. The biggest challenge is probably to get pizza from the workbench onto the pizza stone.
I would recommend using a pizza peel. It looks professional, and it really helps to put the pizza into the hot oven without too much trouble. Here is a tip: Sprinkle some cornflour onto the pizza peel.
This way it is easier to slide the pizza onto the stone. You could also use some parchment paper. It is entirely up to you.
After you finished cooking all these delicious pizzas, it is very easy to clean your pizza stone. Just wipe it with a wet cloth and maybe scrap off some sticky cheese and sauce. Now it is ready for the next pizza party.
---
 Summary
I think a pizza stone is essential to have in the kitchen especially when you are serious about cooking a deliciously crispy pizza.
It is very easy to use and available at a reasonable price. A good quality pizza stone will cost between $40 and $100.
It depends on the material and size.
If you have any questions or feedback, I would love to hear from you. Have you cooked on a pizza stone before? What material would you prefer: stainless steel, cast iron, ceramic or cordierite stone?
Happy cooking everyone!
Anke
Founder of woodfiredpizzaoven.org