Are you looking to increase your protein intake and enjoy delicious and good food at the same time?
Not to worry. We got you covered here with this collection of the best barbecue chicken recipes that are inspired by different cooking styles and ingredients from across the globe.
Let's travel around the world by going through with each of these recipes that will surely satisfy your friends and family's cravings.
It's very hard to pick a favorite but just like me when doing this list I can no longer wait to light up my charcoal grill (and in rare cases my gas grill) and try every marinade mix that was used in these recipes.
Most of our selected recipes became a hit in their respective regional origins and they will surely make a mark on your taste buds as well.
Without further ado, let's get going and indulge in the taste of different cultures with our list of best barbecue chicken recipes from across the globe.
---
The Best Barbecue Chicken Recipes
1. Asian Barbecue Chicken Recipes
1.1 Korean Barbecued Chicken (Dak Gogi)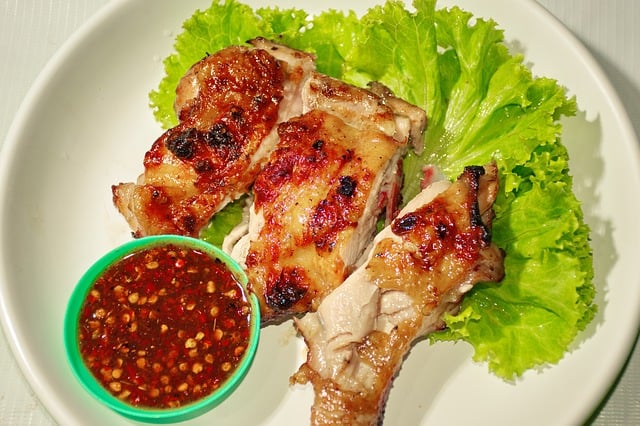 Korean chicken barbecue is flavorful and has a sweet and spicy taste. Its marinade is a mix of sesame oil, soy sauce, malt syrup, shallots, ginger, garlic, mirin, Korean red chili paste, salt, and pepper.
The chicken needs to marinate for at least 12 hours to pick up all the Asian flavors.
Enjoy it the Korean way with Korean side dishes and by garnishing it with scallions, chili threads, and sesame seeds.
Wrap it with lettuce and eat it with rice and Ssamjang or the Korean spicy sauce. You will surely have an unforgettable Korean food treat with this one.
The recipe is available at FineCooking.
---
1.2 Grilled Tandoori Chicken with Indian Style Rice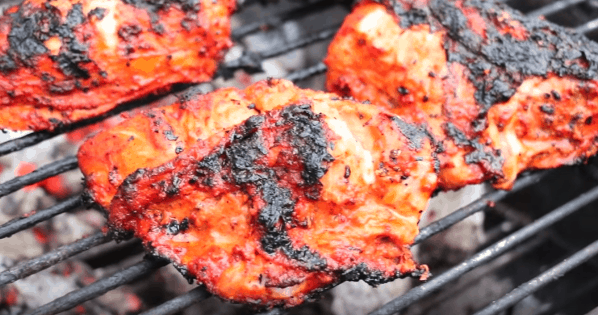 Did you know that Tandoori chicken can also be cooked on a grill?
We've found you a recipe for this Indian popularized dish minus the use of tandoor or the cylindrical clay oven. Instead, you need your charcoal or gas grill to cook up this delicious dish.
This grilled chicken recipe is marinated in a mix of yogurt and spices and needs to be soaked in the marinade for at least 12 hours inside the refrigerator.
Be sure though to remove your marinated chicken 3-4 hours before you start grilling.
This dish is best served with Indian style rice.
You can check out the recipe over at TheWoksOfLife. 
---
1.3 Thai Grilled Chicken (Gai Yang)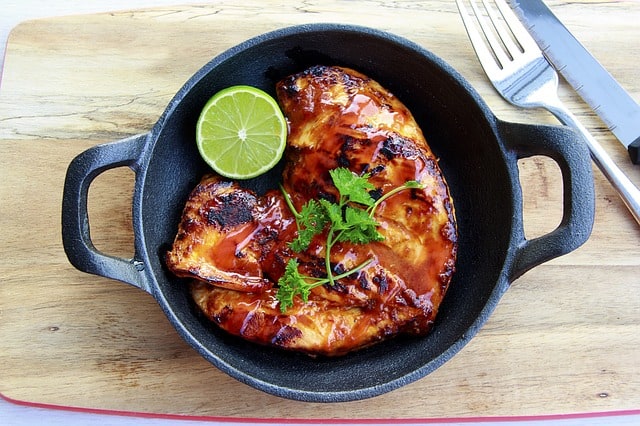 If you have been in Thailand, you will know that chicken barbecue is a common food sighting along the streets.
If you are craving for a sweet-savory flavor of a chicken barbecue then this recipe is surely a must-try one. The recipe requires you to marinate your chicken in a mix of lemongrass, coriander, garlic, peppercorn, soy sauce, fish sauce, palm sugar, and water.
Grill them using your preferred outdoor grill and enjoy your tender and golden brown chicken barbecue with layers of flavor that will surely make you ask for more.
This oriental recipe is available here.
---
2. American Barbecue Chicken Recipes
2.1 Texas Smoked Chicken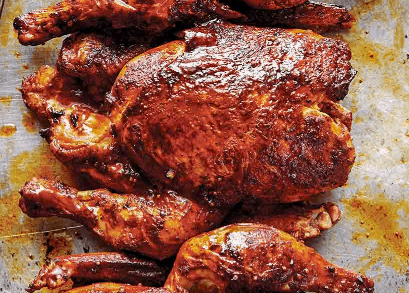 A Texas-style barbecue is not to be missed and the same goes with a chicken barbecue.
In this Texas-style chicken barbecue, a four-ingredient spice mix is used to flavor the chicken. These include salt, black pepper, ancho chili powder, and piloncillo.
The addition of piloncillo provides the sweet and the needed browning to the chicken. This recipe requires you to make use of your grill's smoker if it is available.
Related post: The Best Vertical Charcoal Smokers For Amazing Flavors
Even though the recipe uses whole chickens, you can also use chicken thighs or chicken quarters. You will only need to adjust the time in the smoker.
You can check out the recipe from here.
---
2.2 Alabama White Barbecue Sauce Grilled Chicken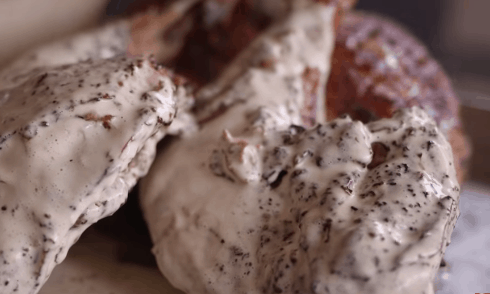 Alabama's white sauce is one popular and must-try sauce for grilled chicken barbecue.
It has a very creamy taste with a mix of tangy and slightly sweet.
In this recipe, the chicken is rubbed with barbecue dry rub, grilled and basted with Alabama white sauce as it grilles.
The barbecue dry rub can be bought or you can make your own by combining the following ingredients – paprika, brown sugar, garlic powder, salt, onion powder, black pepper, and dried parsley.
You can check out the detailed recipe at BunsInMyOven.
---
2.3 Carolina Style Barbecue Chicken
Another distinct and popular American-style barbecue is the Carolina Style Barbecue Chicken.
This one has a mustard and vinegar base. This dish is not only pleasing to the taste but to the eyes as well.
In this recipe, the chicken is basted several times with this Carolina style sauce until it develops a picture-perfect golden color.
The recipe is available at the RecipeGirl.
---
3. European Barbecue Chicken Recipes
3.1 Frango Churrasco – Portuguese Chicken on a Brick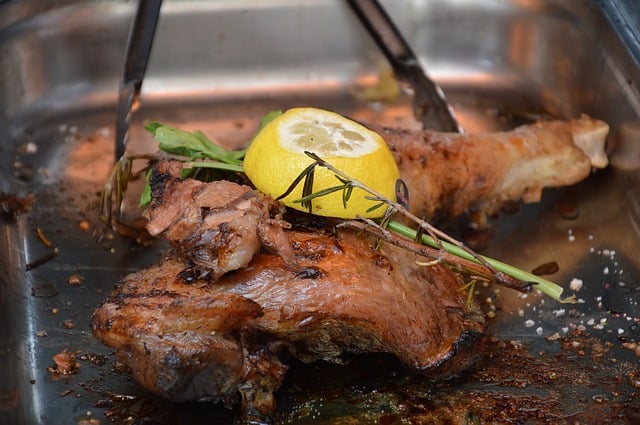 This chicken barbecue recipe combines Portuguese and American style cooking. It uses garlic, salt, paprika, white wine, lemon juice, olive oil, and the Portuguese spice Piri Piri or Tabasco sauce.
Piri Piri sauce is commonly made of chili, lemon, oil and red bell peppers.
And, to achieve a golden sear on the chicken, you will need 2 wrapped bricks or a large heavy cast-iron skillet with this one.
This hybrid recipe is available at the PortugueseDiner.
---
3.2 Italian Herb Grilled Chicken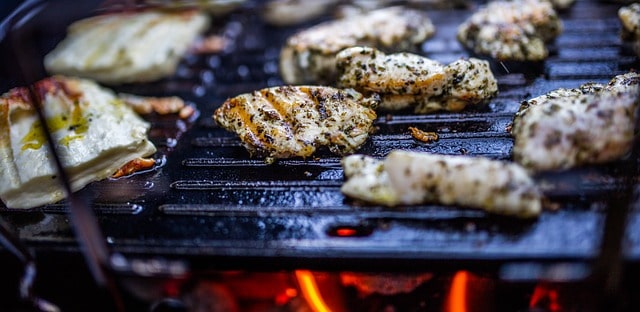 Like most Italian cuisine, this Italian Herb Grilled Chicken has simple ingredients and is easy to prepare.
For the chicken seasoning, you will need dried oregano, dried thyme, dried basil, garlic powder, salt and ground pepper.
The recipe calls for chicken breast and a nice amount of good extra virgin olive oil.
All you need to do is rub the chicken with the mixture of herbs and seasoning, drizzle them with olive oil and your chicken is ready for the grill.
This herb-flavored grilled chicken is best served with pasta or salad. Find the detailed recipe for this healthy yet delicious dish here.
---
3.3 The Best Greek Chicken Marinade
How about a grilled chicken barbecue, with a taste of Greece?
We got you covered with this one and found you a grilled chicken recipe flavored with a Greek marinade.
With the addition of yogurt on a mix of lemon juice, garlic, olive oil, and oregano, this Greek marinated grilled chicken will surely not disappoint.
You can use any cut of the chicken and it will still be delicious no matter if you are using chicken breast, thighs, or drumsticks.
Check out the recipe over at FoodieCrush.
---
3.4 Grilled Chicken Breast
We found you another chicken barbecue recipe written by a Ukrainian mom and she made it very simple with a marinade consisting of fresh garlic, olive oil, salt, and pepper.
This recipe does not require long periods of marinating, so you are good to grill after 10 minutes.
It is best served with whole-grain or lettuce salad as a healthy option.
It can also be topped with mango, pineapple or guacamole salsa or it can be made to chicken salad with vegetables, nuts, and berries.
You can check out the recipe here.
---
4. Caribbean Barbecue Chicken Recipes
4.1 Cuban Mojo Chicken with a Citrus Avocado Salsa
This taste of Cuban style grilled chicken is packed with fresh flavors of citrus, garlic, and herbs.
I am sure this recipe will tick all the boxes for a dish that the whole family will love.
Make sure that the chicken is marinated for a few hours before cooking.
The marinade for the salsa uses similar ingredients they use in the chicken marinade with the addition of avocado to provide the creaminess on the dish.
Served with cilantro lime rice, enjoy this fresh goodness with the detailed recipe and more useful tips at ChelseasMesssyApron.
---
4.2 Mango Coconut Shado Beni (Cilantro) Grilled Chicken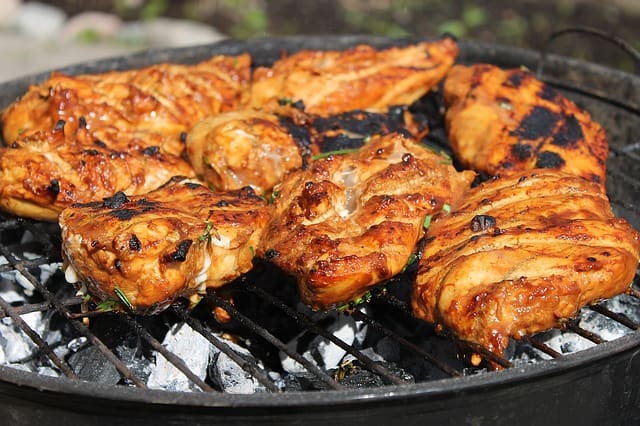 This is another Caribbean take on grilled chicken.
This recipe makes use of chicken breast and several herbs and spices with the addition of mango, coconut milk, ginger, honey, scotch bonnet pepper, and shado beni also known as or cilantro.
This Caribbean goodness recipe is available here with even more authentic Caribbean recipes.
---
4.3 Grilled Jamaican Jerk Chicken
Now, let's try Jamaican style grilled chicken with sweet and spicy taste on it.
The marinade of this dish requires the use of ginger, habanero chillis and a mix of spices and herbs.
This Caribbean style grilled chicken is dubbed as a flavor bomb and will be loved by your friends and family.
You can check out the recipe on this website.
---
5. Polynesian Barbecue Chicken Recipes
5.1 Hawaiian Chicken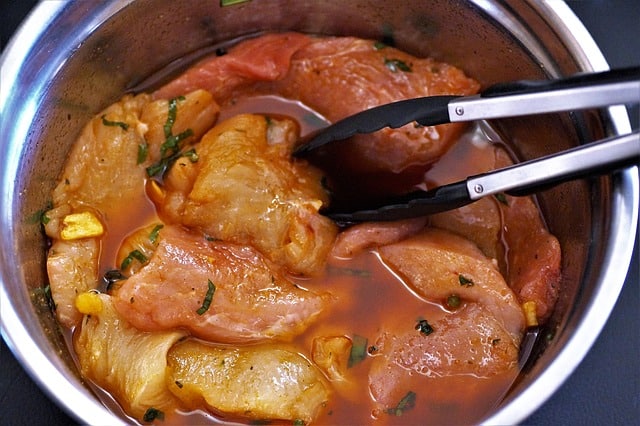 Let's have a taste of Hawaii in this grilled chicken recipe that is packed with the flavors of pineapple and coconut.
This Hawaiian chicken is best served with rice and grilled pineapple so you will have the best island experience on your table with this one.
This perfect Hawaiian recipe is available here.
---
5.2 Grilled Polynesian Chicken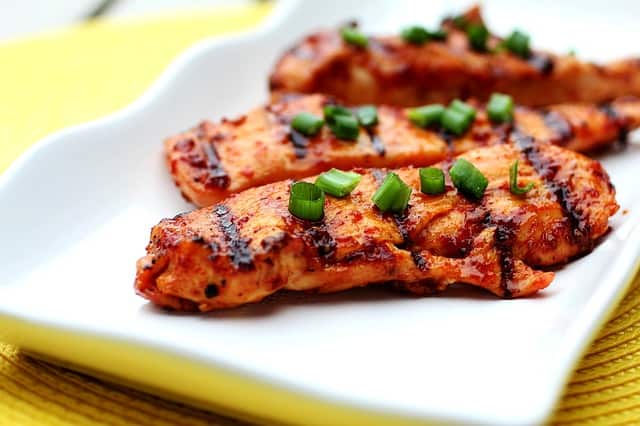 This grilled chicken recipe is inspired by the Samoan way of cooking and has a citrusy marinade that is made of soy sauce, lemon, limes, ginger, garlic, brown sugar, and green onion.
It is best to leave the chicken in the marinade for at least four hours or even longer. Serve it with rice and greens on the side.
This citrus-flavored grilled chicken recipe is available here.
---
5.3 Grilled Hawaiian Chicken Sandwich
We cannot get enough of Hawaiian style grilled chicken and this time it is in the form of a sandwich.
Just like most Hawaiian dishes, this one is flavored with pineapple with the addition of black pepper bacon, lettuce, tomato, and onions.
Enjoy this sandwich oozing with flavorful sauce in this detailed recipe here.
---
Wrapping It Up
We hope that you have chosen a favorite amongst our list of the best barbecue chicken recipes.
Most of our dishes require the chicken to be marinated before they were cooked on the grill.
As we all know marinades are usually acidic and enzymatic. They are usually flavored with spices, herbs, and oil as well.
We saw some stand out addition of some ingredients on our list like the sesame oil, chili paste, yogurt, lemongrass, coriander, sugar, mayonnaise, mustard, lemons, cilantro, pineapple and different varieties of chillis and herbs.
Cooking will always be exciting with the addition of different spices and herbs to add to create different flavors.
And as we see, good and delicious food can come in different forms and cooking styles and with our list of the best chicken barbecue recipes, indulging and cross-culturally delicious foods are just a grill away.
I'd love to hear which one is your favorite recipe and why. Please leave a comment below.
Happing Cooking!