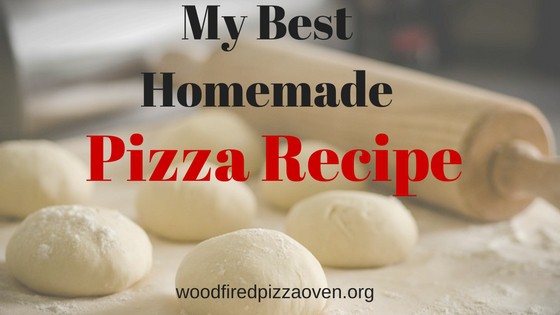 My Best Homemade Pizza Dough Recipe
I have been searching for years for the best homemade pizza dough recipe and quite often it was trial and error. To create the best pizza dough, it comes down to using the best possible ingredients as well. You need to use the right flour like (preferably organic) bread flour and extra-virgin olive oil.
Nothing, and I mean nothing beats homemade pizza dough. It is easy to make and you can even put the raw dough in the freezer, so you always have a batch ready, when you need it.
I won't talk about toppings, right. The possibilities are endless. My kids love their pepperoni pizza, and I like to add red onion, red pepper, and mushrooms.
But I will talk about the sauce. I reckon if the sauce is not tasty then the whole pizza suffers.
My Pizza Dough
Ingredients
1/2 tsp instant yeast
2 cups lukewarm water
1 tsp white sugar
5 cups flour (makes five small pizzas)
2 – 3 tsp sea salt
Instructions
In a jar combine the lukewarm water, yeast, and sugar and let it sit until there is some froth on the surface (ca. 10 min)
In a bowl mix the flour and salt.
Make a well in the centre and pour the water, sugar, yeast mixture in.
Mix with your hands and knead the dough until it becomes smooth and elastic. I usually knead the dough for at least 5 – 10 minutes. You could also use a bread maker (does the work for you) or a stand mixer with a dough hook: knead the dough for 5 min on low speed.
Put the dough in a bowl and sprinkle with a bit of flour. Cover with plastic wrap and put in a warm spot. Let the dough rise for 2 hours or until doubled in size.
Put the dough onto a lightly floured workbench and roll it into a sausage shape. Cut it in equal pieces e.g. for bigger pizzas three parts and smaller ones into five pieces.
Form each piece into a ball and let it rest for 10 min, covered with a tea towel
Now you can roll out the dough as thick or as thin as you like.
Spread the sauce on top and pile on your favorite toppings
In the meantime preheat your oven including your pizza stone to 500F (if you read my post on how to use a pizza stone, you will be a pro 🙂 )
use a pizza peel and transfer the pizza to the oven
it should be cooked in 5 to 10 minutes
Bon Appetite! Enjoy! Guten Appetit!
Oh yes, and of course, I need to talk about the sauce. It is the easiest and tastiest sauce to make.
Ingredients for the sauce
a tin of good quality chopped or whole Italian tomatoes (this should be enough for five small pizzas)
1tbsp of homemade or store-bought pesto (adjust to taste)
salt and freshly ground pepper
a splash of extra virgin olive oil
Instructions
Put all the ingredients into a mixer (I use a Nutri Ninja bullet) and whizz it up. Done! Check the seasoning and add Salt and Pepper to taste.
---
I would love to hear from you. Have you got a favorite pizza dough recipe you'd like to share? Please leave a comment below.