My guide on How To Clean A Charcoal Grill shows you step-by-step the best way to make your BBQ look like new.
Firing up the grill (not only) in the Summer time is the most favorite thing to do for most people. Gathering friends and family for a barbecue is relaxing, and the food grilled on a charcoal BBQ tastes amazing.
Some of the dreaded chores though are to clean the grill for maintenance, to increase the longevity and to enjoy tasty steaks. Quite frankly, no one wants to eat food cooked on a greasy and rusty looking BBQ.
My recommended charcoal grill is the Weber Performer Deluxe 22 Charcoal Grill. Read the in-depth review here.
My guide on How to clean a charcoal grill will show you handy cleaning hacks to make your job a little bit easier.
It is best to give your BBQ a good clean before the grilling season starts and after each use.
---
What You Will Need
Gather all the things you will need to give your grill a thorough clean.
A grill brush with attached scraper
Gloves
A bucket of soapy water plus a soft sponge
A Hose
A Bristle Brush
Aluminum foil and long handled tongs
Paper towels and cooking oil
Some elbow grease. 🙂
---
First Step
Before you start cleaning, find an area for the grill where you can quickly reach the hose to rinse the grill and also where it doesn't matter if ashes or char are falling off.
Start With The Exterior
Clean the exterior such as the lid and bowl with a sponge and warm soapy water. Scrub the inside of the lid and scrape off any burnt on residue with a grill brush.
Rinse with clear water.
---
Cleaning The Interior
How To Clean The Grill Grate
Let's get started with the grill grate. First off, scrub the grate with the scraper of your grill brush. It is best to do it while the grate is still warm.
After that, take the grate out and either soak it in warm water with some dish wash liquid or wash it down with the sponge. For hard to clean spots use a scotch pad.
Rinse it down with a hose and let it air dry while carrying on with the rest of the grill interior.
---
Cleaning Out The Ashes
Take out the charcoal grate and clean it like you did the grill grate.
If you own a Weber charcoal grill with the one-touch cleaning system, it is easy to clean out the ashes. Just remove the ash pan and discard of the ashes.
Scrape any residue with the scraper of your grill brush and wipe clean with a sponge and warm soapy water.
Rinse again and let it dry.
---
Last Step
Lastly, reassemble your grill which should look nice and shiny.
Seasoning the grill grate: Soak a folded paper towel in cooking oil and wipe a thin layer of cooking oil (e.g., sunflower oil) onto the grill grate. The oil prevents the grate from rusting and also from food sticking to it.
Cover your clean and shiny grill with a water proof cover for your next BBQ party.
---
Some More Useful Cleaning Hacks 
If you don't have a grill brush with scraper, you could use scrunched up aluminum foil (like a small ball), hold it with a long handled tong and scrape the cooking grate while it is still warm.
To prevent tough grease, cover the charcoal grate with tin foil especially when you plan on cooking bacon, chicken or other greasy food.
To get rid of tough grease, use a store bought cleaning solution. I also have found a homemade paste of vinegar and baking soda a potent cleaner.
Another great tip is to cut a white onion in half and wipe the hot cooking grate with it. Use a long handled tong to hold the onion. It cleans and seasons the grill grate at the same time. Rub any area of the grate that will get in touch with meat.
This method is also great to use on public grills since you don't know what has been cooked previously.
---
 Wrapping It Up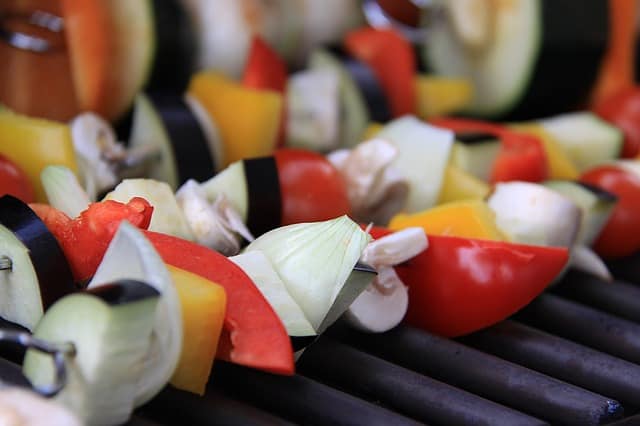 To keep your grill in top condition and to run it well, always give your grill a good clean.
It not only increases the longevity of the grill but also makes the food taste so much better.
If you have any tips you would like to share; please leave them in the comment box below.
Happy Grilling!