Benefits Of Cooking In A Wood Fired Oven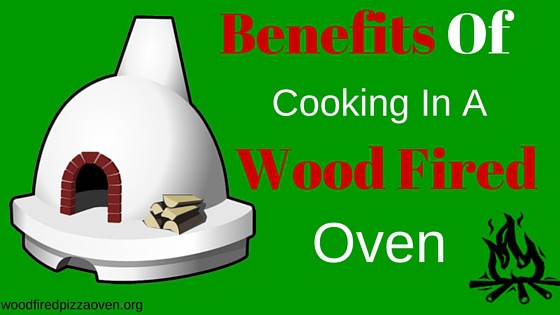 Before I get into more details about the benefits of cooking in a wood fired oven, just a brief historical background.
Wood Fired Oven have been used since the beginning of human civilization. The earliest ovens were found in central Europe dated back 29000 BC, mainly for cooking mammoths and the likes.
Front loaded bread ovens were developed in ancient Greece. They also invented a wide variety of dough and loaf shapes.
Brick ovens in its modern form are dating back to ancient Rome. The original Roman design features a round, domed oven chamber and a front vent design.
Traditional Wood Fired Oven
The most traditional wood fired oven is called a "Black Oven" or "Masonry Oven" (wikepedia.com). Masonry ovens are made from fireproof  bricks, concrete, stone or clay. It has one chamber that is heated by a wood fire inside.
After the oven is preheated enough, the burning wood is moved to the side to make room for the food. The food will be cooked in the same chamber in an incredible fast time.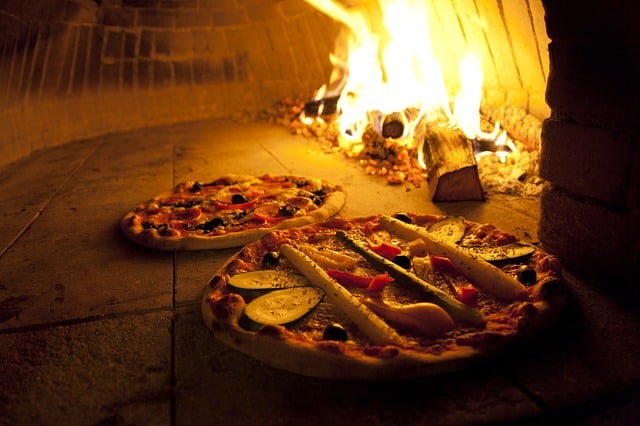 Back To The Roots
Around twenty years ago, more and more people rediscovered the joy of wood-fired cooking. Wood collecting, preparation and ultimately celebrating the delicious cooked meals.
Old recipes and techniques used  by many generations before gained a new popularity as well.
Many people seeking the simple pleasures in life and that involves being together with family and friends and enjoying meals cooked in a traditional way.
What Are The Benefits?
#1 The Food Tastes Amazing
That is probably the most important benefit when cooking in an wood fired oven. The smoke created from burning the wood adds an extra flavor dimension.
#2 Cooking Time
Once you reach the desired heat the food cooks very quickly. A pizza will be cooked in roughly 1 1/2 up to 2 1/2 minutes. That means you can cook pizza for a lot of people in a short amount of time.
Once the heat drops a bit it is time to put other dishes like a roast, vegetables or maybe bread into the hot chamber. You can basically cook everything in an wood fired oven, not just pizza.
#3 Healthy Food
Because of the quick cooking time the food e.g. vegetables or fruit are more likely to retain their nutrients. Otherwise it might be gone when cooking them for a longer time..
#4 Environmental Benefits
When cooking with a traditional oven you don't need fuel like gas or electricity. So you become more self sufficient  and independent from these other sources.
#5 Its Fun !
Yes, it is fun. Sitting around a fire, preparing food and cooking together – what an awesome way to spend time with the most important people in life, friends and family. And, the best part, they will be back for more. Who doesn't want to make the best pizza in town. 🙂
---
Summary
There you go.  Get the Summer season started with your very own wood fired pizza oven. There is no better way than celebrating good food and good times!
In my next post I will talk more about the different types of ovens available on the market. So stay tuned. 🙂
---
What is your favorite food to cook in a wood fired oven? Do you have any recipes you would like to share? Please leave a comment in the box below.